Michael Nyvang - Biography
Biographical notes, photos and reviews
A look at the past with pictures
---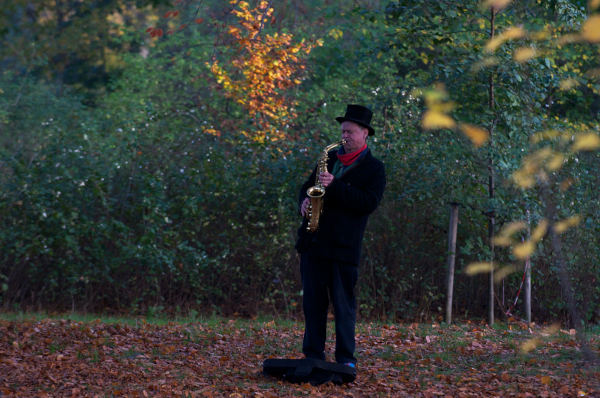 Michael Nyvang
The music journalist Anders Beyer from the countrywide Danish newspaper Information once wrote about the young composer Michael Nyvang: It sounds like a music that one has never heard before, Michael Nyvang seems to be building himself up from scratch, rather than continuing an established tradition. Later this came to the point of Michael Nyvang leaving the narrow confines of contemporary classical music more or less entirely to write stories, fiction, as well as playing saxophone with friends: African music, improvisations, flamenco and jazz.
Michael Nyvang's music covers a large palette of expressions and styles, from an hour long solo piece for piano, over recorded and electro acoustic music to the almost minimalist music in his original work River and land for the Hungarian instrument cymbalum, percussion and sound sources, which was first performed during the international music festival in Marseilles, France Les musiques 2006 by Françoise Rivalland.
He received a recognition of his sounds cinematic potential, when the Oscar winning Irish director Niel Jordan in 2009 licensed an electro acoustic composition for his movie Ondine. In 2009 he was commissioned to write original music for a play by Christophe Huysman presented at the official program during the international theater festival in Avignon.
Find out more on the database of Danish composers.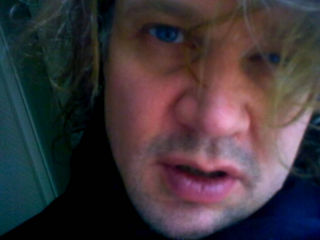 Selected reviews
Jyllands-posten, nationwide newspaper, Denmark
... One extreme example (during the music festival) was the composer Michael Nyvang's sound installation Flyfucking, describing a young male fly's frustrated chase after a female partner, quite wittingly installed in Ridehusets toilets....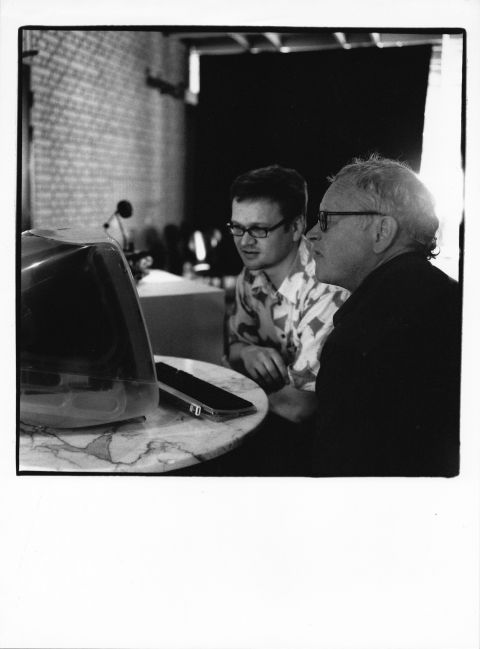 Photo: Karl Aage Rasmussen and Michael Nyvang
Flensborg Newspaper, Flensborg, Germany
... The seven movements to a monument over the loneliness of our world is an incredible touching journey through emotions and sufferings with a continuous change in tempi and rhythms. To put it short, a musical experience beyond the usual. Also the pianist Erik Kaltoft, who has been first performing the work as well in its first version in 1988 and in the revised version in 1994, deserve the highest praise for the interpretation of this challenging work. ...
Fanfare, Robert Kirzinger.
... I was somewhat relieved by the almost-but-not-quite-ambient nature of the work, which I found beautiful (granted, not right away but after a couple of hearings) without being boring .... I liked Nyvang's piece quite a lot for its avoidance of clichés from the serialist and the New Age schools of electronic music.... I would recommend this disc for the Nyvang alone ...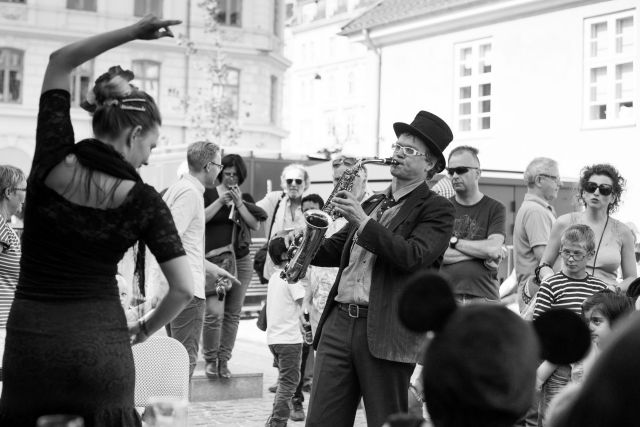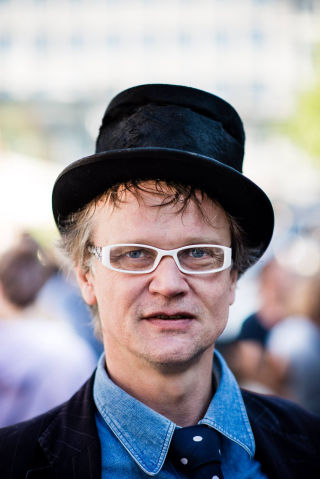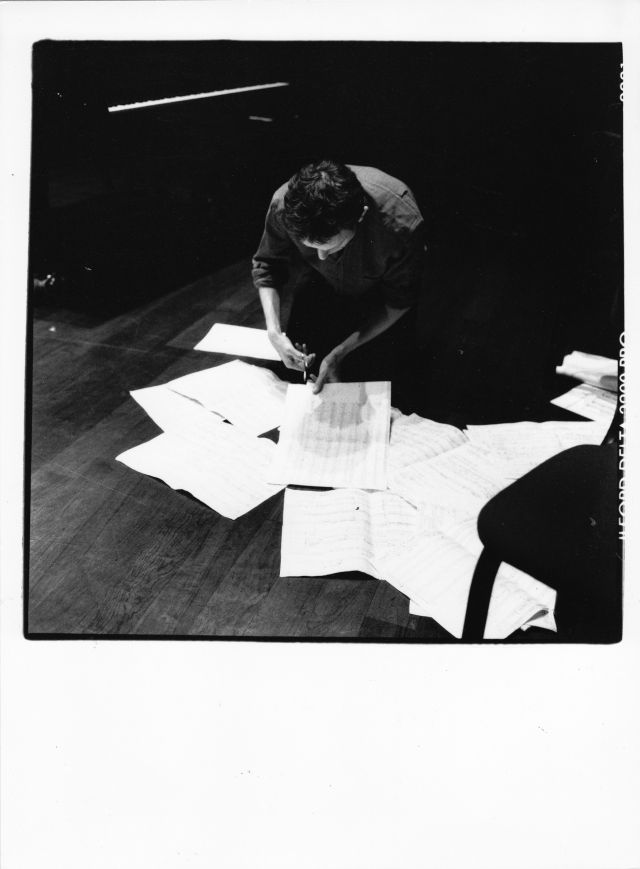 Photo: Pianist Vincent Leterme, Ensemble S.I:C, from concert with music by M. Nyvang.
Berlingske Tidende, nationwide newspaper, Denmark
... Saxophone quartet by Michael Nyvang Reconstruction - before silence made a strong impression of compositional clarity and consistency coupled with a will of expression from a composer who has been a long time to get to grips with his talent, but now seems have the potential to become one of the really big names...
... the most fascinating (work) is Music for virtual orchestraby Michael Nyvang, where a piano has served as material for that multitude of sonorities, which the four movements presents. The most interesting - from a technical point of view - is exactly the fixation of the pianos acoustical identity throughout the work. By this we experience the tension in the collision between many layers of perception and reality ...
... A selection of piano and chamber music works by Michael Nyvang from the latest years, which were presented at his debut at the concert hall of the Danish Radio, are original and interesting works, which shows that the composer is able to turn large and diversified rich forms into long and mind capturing developments ...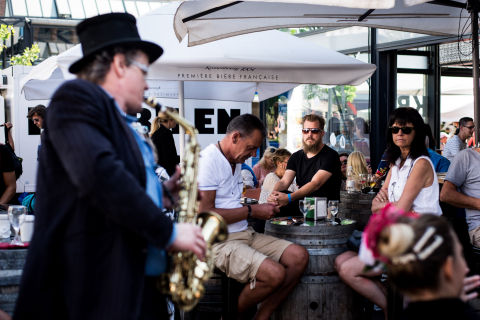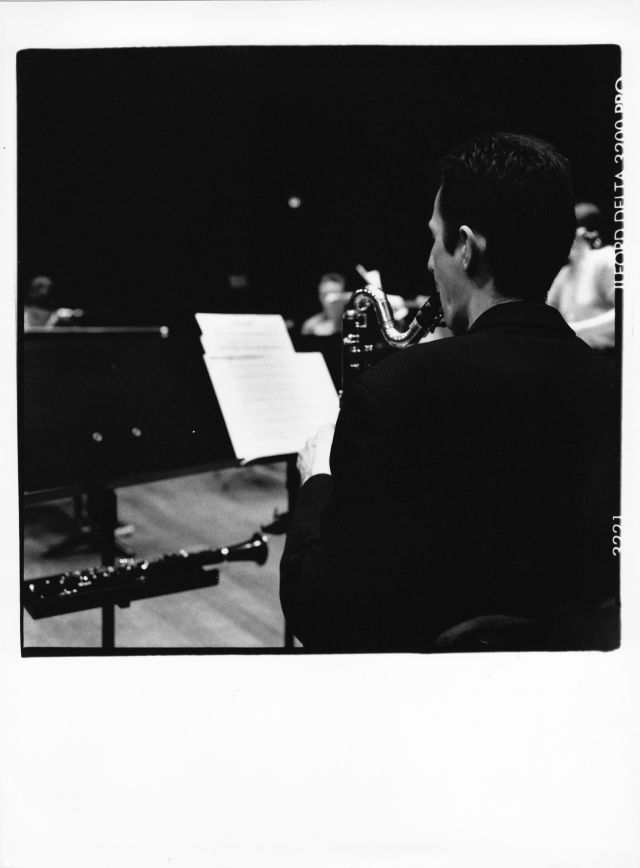 Photo: Clarinetist Pierre Dutrieu, Ensemble S.I:C from concert with music by M. Nyvang.
Information, nationwide newspaper, Denmark
... The first thing that come into mind meeting Nyvangs music, is, that it doesn't sound like something you have heard before. Even though you deep within Nyvangs Modelstudy I - projection for two pianos can hear echos of Stockhausens Mantra, even if parts of the piano piece Excess sounds like something by Boulez, even though a title like Nyvangs Movements to a monument over the loneliness of our world in its serene graveness reminds you of Messians Quartet to the end of the world, even if the French composer Tristan Murails work with spectral music techniques is reflected in the music, then you can not put your finger down on one spot and say: There we certainly find the past musics form and figures inherited. The music of Nyvang are entirely new and created with a will of searching out new directions.
... You enjoy the sounds, resounding, the composer give time and space for you to listen into the sound ... Michael Nyvangs music can be characterized as abstract sounding images, reflecting the artists experience of moods like desolateness,, deterioration, music which reach upwards and splinters as sea waves in the rays of sunlight. In the midst of the musical abstraction you all of sudden can find a short fragment, recalling the popular and romantic schlager. Just a chord or two. In a glimpse the sound and mood shift, the second after we are back in the non-figurative. That, which amongst other is the strength of Nyvang, is his ability to create these interesting soundscapes. ...