Contact & News
About
Hi, I'm a human. I invent music, poetry, play saxophone and doodle humorous minimalist pen drawings Listen [♫] or watch videos [▭].
News
You could try: the weblog (or just blog) to find a bit of inspiration in the occasionally updated sketches, photos, texts, music and what have you.
01.09.2023 - Video and sound update: electronic ambient added, and missing descriptions in English and French. Danish versions follow. Soon news regarding live!
01.08.2023 - Video and sound update ... translation and descriptions to come. This is material recorded before 2014. I hope to record new material someday as my sound is evolving towards a darker and more expressive sound. Please note that the quality of the video is low as the material is hosted on site.
01.07.2023 - Exciting news! I'm getting back to being a full-time freelance artist! Progressive website updates in July. My poetry work has reached notebook 8, so with 4 more to go, I'm now more than halfway to completing the raw material for a new book
01.06.2023 - Working on a new commision and a modern jazz trio project with two exceptional musicians I really love
01.05.2023 - News in May - the Sun rise. Thus reassured, and after a change of job, more time to the arts - new compositions and a trio project in the works.
10.04.2023 - First of April and no news flash, you say? That was in fact my contribution to April Fool's Day: to have you wondering what happened!
01.03.2023 - So time passes and March it is. Soon it will be spring!
01.02.2023 - Interesting news is coming up in february! However ... I wont tell'em ;)
01.01.2023 - Surprisingly there won't be any news from here in January. Which is way better news than the world news! Happy new year, love Michael.
01.12.2022 - No news either this month, in particular nothing on nostandardassembly.com .
01.11.2022 - No news is good news.
Email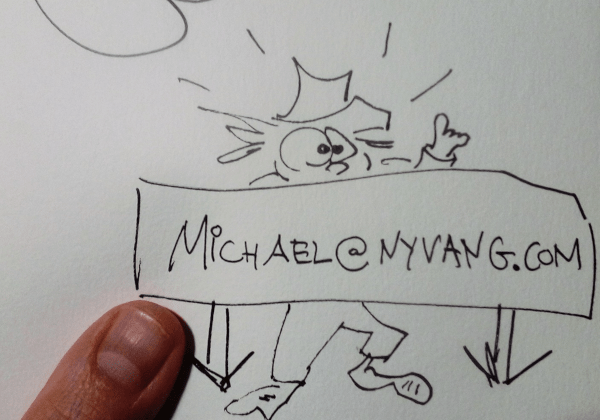 Other contact points
Social networks
Lost contact to WhatsApp. Please consider SMS, mail or messenger until further notice
Instagram: @michaelnyvang
Facebook: @mr.nyvang
On privacy, the environment and trackers
I prefer a free CO2 neutral web without sneaky trackers. To respect this myself my website(s) are hosted in Iceland 'boiling on' natural volcanic power from mother Earth. We1 do not collect any personal information from visitors for other purposes than to provide service to those who decide to support2 us by buying scores, music, giving a donation or by other means. Such information will be held in full compliance with the GDPR, and exclusively to provide costumer service to you personally. We do not sell your data nor do we keep it once you unsubscribe.
(1) By we/us is meant me, the other collaborating musicians and the producer.
(2) Supporting by buying a score, music or giving a donation is obviously highly valued and welcome, but until I have found a collaboration with a licensed producer, or otherwise solved the administrative hurdle, it will have to wait a bit.